February 17, 2017 at 4:30 am
Wearing leopard print can be a daunting and bold feat. It's a statement pattern that will definitely turn heads on the street, but there's no need to shy away from wearing the print! Every woman should try to have one article of clothing with leopard print in their closet, whether as a dress or even on an accessory. The trick is to style it right. Sian shows us how:
Leopard print can be overwhelming if not styled properly. When I saw this dress on ASOS a couple of weeks ago, I thought it was the perfect subtle leopard print, and the midi length of the dress – perfection (it also looks almost exactly like a Saint Laurent dress that is $2490!). Most sizes sold out insanely fast (there's still smaller sizes left – linked below). I love that it can be dressed up for going out like I did below, or with a blazer/cardi for work. I paired this with my favorite leather DKNY moto jacket, Nine West heels, and a Limited belt with gold details. (I still can't believe The Limited is closed!!)
If an all over leopard print is too much for your style, you can always incorporate it subtly into your wardrobe for a little pop of print in a bag, shoe, or top.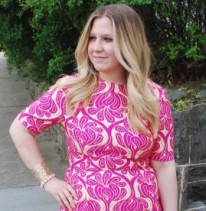 Sian is the woman behind the stylish fashion and beauty blog, Girl, Inbetweenied. She blogs to be a "fashion and beauty inspiration for the average-sized woman" in response to the fashion industry's unrealistic beauty standards of female size. A resident of Washington DC, Sian is a proud Inbetweenie and advocate of universal beauty for all sizes. Follow Sian on Facebook, Twitter, and Instagram!