April 29, 2016 at 4:30 am
For many of us, the spring season is in full swing, which means warmer temperatures and sunnier days. One of the best styles for the season is boho chic, for its flowy, loose structures, fun and diverse patterns, and light makeup. Boho chic is typically a more casual kind of style, but with the right clothing and accessories, it can be worn at work too! Check out how Sian does boho chic:
I bought this gorgeous sequin boho chic dress on ASOS for the spring, and am obsessed with the details. But it sold out really quickly. I love that this dress mixes a casual boho chic and dressy vibe – the sequins and open back kick it up a notch. This dress had a dropped waist which isn't the most flattering on my body, so I added a belt to create a higher waist on the dress. I loved the pattern and look so much, I just made it work for my body!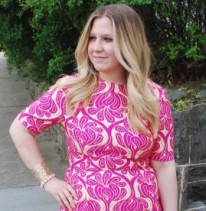 Sian is the woman behind the stylish fashion and beauty blog, Girl, Inbetweenied. She blogs to be a "fashion and beauty inspiration for the average-sized woman" in response to the fashion industry's unrealistic beauty standards of female size. A resident of Washington DC, Sian is a proud Inbetweenie and advocate of universal beauty for all sizes. Follow Sian on Facebook, Twitter, and Instagram!