Its great to find pieces we love, but even better when they're sold for affordable prices. Here is a great example of that wonderful feeling of finding gorgeous, inexpensive pieces, as well as a few awesome tips on how to mix and match bold prints to create a chic, cohesive outfit that is perfect for many occasions. Sian tells us more:
I was insanely excited when I heard that Marimekko was collaborating and designing a line for Target; I love their bold, graphic prints. I featured this Marimekko skirt and top when they designed a line for Banana Republic some time ago and this skirt remains one of my favorite pieces I have ever owned…
I stalked out the line on Target's website knowing that it would sell out pretty quickly. I had my eye on the shorts I am featuring in this post, and any of the palazzo pants. I ended up with both! The palazzo pants run slightly small, so I need to lose a couple lbs to fit into them, but the shorts worked perfectly. I did a little print mixing, and can't wait to rock these shorts all summer. They are still available!
Some people complained about the quality of this line. I disagree with those reviews – the material is perfectly lightweight for summer, you are getting the Marimekko designer print, and, um, this is from Target at a great price point – you can't pay $19.99 and expect the same quality level of a $300 garment. The materials are purposefully breathable and lightweight – it's a summer line!
I played with the print by adding a simple striped blouse from LOFT. I love mixing prints…if you missed my previous posts on how to do it, here are my tips…
Make sure one color repeats in every piece of the outfit.
Mix polka dots and stripes – it's a really easy way to start mixing prints. Using black and white also makes it really easy!
Blend small prints with larger-scale ones. Two prints of equal scale can be overwhelming.
Don't get print crazy – stick with mixing two to three prints max, this includes your accessories – keep it simple. Try using solid colored accessories like a clutch or oversized necklace or belt to anchor the outfit.
Use monochromatic colors with different prints.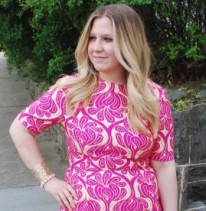 Sian is the woman behind the stylish fashion and beauty blog, Girl, Inbetweenied. She blogs to be a "fashion and beauty inspiration for the average-sized woman" in response to the fashion industry's unrealistic beauty standards of female size. A resident of Washington DC, Sian is a proud Inbetweenie and advocate of universal beauty for all sizes. Follow Sian on Facebook, Twitter, and Instagram!