March 11, 2016 at 4:30 am
Blazers are a crucial item in any professional woman's closet. They can instantly upgrade a look and give an outfit a more polished finish. While they can be part of any work uniform for meetings, interviews, and conferences, blazers can be worn casually to add a more mature accent to your style. But do you know which blazer best suits you? Sian gives some important tips:
I wanted to post one of my favorite blazers from Banana Republic that is a great color for the transition to spring. I fall into the hourglass shape body type, so this blazer has a fitted shoulder, a cinched waist, and hits mid-hip. It also has two vents in the back which gives it a little bit of a flare at the hip.
It has the perfect cut and gives it such a sharp, tailored look. It made me think about how to pick the perfect fitted blazer, and I wanted to share my tips with you! Scroll below for recommended blazers available now for each body type described! If you don't know what your body shape is, I recommend you take this Body Shape quiz before reading the graphic below!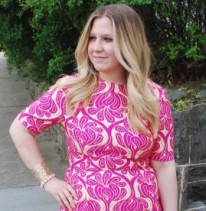 Sian is the woman behind the stylish fashion and beauty blog, Girl, Inbetweenied. She blogs to be a "fashion and beauty inspiration for the average-sized woman" in response to the fashion industry's unrealistic beauty standards of female size. A resident of Washington DC, Sian is a proud Inbetweenie and advocate of universal beauty for all sizes. Follow Sian on Facebook, Twitter, and Instagram!