Makeup foundation is considered to be the base of any makeup look, so it's crucial to have a foundation that compliments you well. But there is a lot of choices on the market and you're most likely just trying to figure out you could wear on a daily basis. There are multiple different personal and situational factors to consider when picking the right foundation. Alyson gives some important tips:
Those who know me personally know how obsessed I am with makeup in real life.  One of the reasons why I started this blog was to give advice to my friends — whether it's about what the best drugstore coral lipstick is or what eyeshadow Kim Kardashian was wearing at a certain event, I'm usually the go-to person for that.  So it was only fitting that I start posting questions I get asked by you!
QUESTION: What's the best everyday foundation?
ANSWER:
When it comes to everyday foundations, I recommend bases that have a natural finish on your skin and have a light to medium coverage.  Especially in the professional environment, it's important to make sure that your makeup is not distracting, so choose something that looks like your skin but better.
But before we start looking at foundations, know your skin type.  If you're on the oily side, look for foundations that are matte.  For those with drier skin types, look for moisturizing or radiant foundations.
By narrowing down the finish and coverage, choosing a foundation will be much easier and I highly recommend looking at tinted moisturizers or CC/BB creams for everyday use.  Here are some of my favorites:
FOR OILY SKIN
FOR DRY SKIN
FOR NORMAL SKIN
Here's a tip – when you're starting your search, don't buy the first foundation you come across.  When you're visiting Sephora or Nordstrom, ask for help and get a few samples!  In my experience, the samples given are enough to see whether or not it works with your skin.  Hope this helps and happy shopping!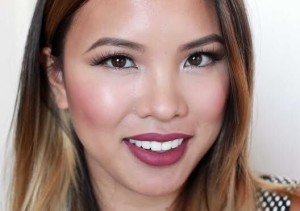 Alyson is the beauty and style guru behind the blog, Beauty Vanity. Based in San Francisco, Alyson believes makeup should make a person "feel beautiful, inside and out" and uses her blog to write about her perspective on "beauty, fashion, and lifestyle." She shares her makeup experiences and reviews, keeping in mind what products work out for her and what would benefit her readers. Follow Alysonon Facebook, Twitter, and Instagram!