The perks about wearing oversized clothing is that it's less confining to your figure and more relaxed. However, as some of us know, it's not the easiest thing to wear oversized pieces because it requires a lot of planning for the overall outfit. It's all about balance and contrast. Here are some tips from Sian about how to rock the oversized look properly:
Since my back surgery, I am gravitating towards oversized boyfriend style tops and jeans. I have to rock a brace for a little while, and it's much easier to throw it on under an oversized shirt. When I wear oversized gear, I follow a few rules so it doesn't overwhelm my frame…
Wear a boyfriend style/oversized top with fitted pants/pencil skirt. If the top is oversized and you throw on baggy or wide-leg pants, you will completely lose your shape. Wearing a slimmer leg jean, pant or legging will give a better proportion with an oversized top. I also wear this top over black or gray leggings untucked with short booties which is perfect for the weekend!
If you are going for boyfriend style pants, wear a fitted top. Same reasons listed under one.
Wear a boyfriend style top like a cardi and layer up! For a casual look, throw on distressed jeans, and cute "saying" tee and throw an oversized flannel top over it – super chic!
Tuck a boyfriend style top in the front and leave the back out. This is a great way to give a little more polish to the look. I applied that principle with this outfit with the front of this Banana Republic top tucked, and a dressier tuxedo pant from LOFT. I would do this for a casual Friday at the office. I could also throw on a pair of sneakers with this to make it look more casual.
For boyfriend style jeans, I like a slimmer leg. For me, I find if the jean is TOO baggy, it adds weight to my hips and thighs. I like slim leg boyfriend jeans. Scroll below for an example of a slim leg boyfriend jean.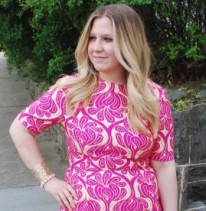 Sian is the woman behind the stylish fashion and beauty blog, Girl, Inbetweenied. She blogs to be a "fashion and beauty inspiration for the average-sized woman" in response to the fashion industry's unrealistic beauty standards of female size. A resident of Washington DC, Sian is a proud Inbetweenie and advocate of universal beauty for all sizes. Follow Sian on Facebook, Twitter, and Instagram!