Women are often held to strict standards when it comes to appearances and are expected to be "beautiful" by societal standards. But women (and men) shouldn't be held to limiting parameters of "beauty" and style. If a woman wants to wear a suit instead of a dress, she's free to. Here are some tips from Sian on how to find the right suit for you.
Finding the perfect suit can be intimidating! Read on for my tips on how to find the perfect suit.
I came across this beautiful satin white suit from H&M and had to have it (it's still available – linked at the end of the post). I love scouting out work items that can double for an evening out, can be dressed down, and/or can be worn as separates. In this post, I styled the suit for evening with a lace Topshop crop top (say that five times fast)! For work, I simply just swap the lace top for something more professional.
Purchasing this got me thinking about how to find the perfect suit. I previously did a post on picking the perfect blazer for your body shape, and this advice definitely applies to your suits as well…
Pair the blazer tips above with the following to find your perfect suit…
Flared and wide leg suit pants balance out a wider hip (hourglass/pear/apple shapes). If you are rectangle or inverted triangle-shaped – slim leg pants are a great choice!
Of course, this doesn't mean that any body shape can't wear all style of pants – you can – just play with the proportions of the suit blazer to balance your shape out. For example, as a hourglass shape with wider hips, when I wear a slim leg pant, I like finding a close-fitting blazer (nothing super loose) that's hits mid hip or a little lower to balance my hips out. With a wide leg pant, I can go a little shorter with the blazer because the width of the pant balances my hips out.
To spice up your suit game, play with the color, print, material and details. For example, to play up a navy suit, do it in two different shades of blue in the blazer and pant; find a blazer with intricate buttons; pair a striped pant with a solid blazer, etc. There are lots of ways to make it more interesting!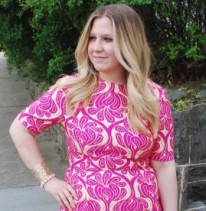 Sian is the woman behind the stylish fashion and beauty blog, Girl, Inbetweenied. She blogs to be a "fashion and beauty inspiration for the average-sized woman" in response to the fashion industry's unrealistic beauty standards of female size. A resident of Washington DC, Sian is a proud Inbetweenie and advocate of universal beauty for all sizes. Follow Sian on Facebook, Twitter, and Instagram!