September 16, 2016 at 4:30 am
The off the should trend boomed during the summer season, marking the comeback of the classic fashion trend. If you want to still rock the look into the next season, you absolutely can! It's all about the colors and materials to make it more appropriate for the less warm weather. Sian shows us how:
DC is a BIG brunch city, so we went to one of our fav spots – Le Diplomate. If you live in or around DC – they seriously have the best burger you will ever taste. To venture out, I wore one of my most comfy off the shoulder dresses. I love that the off the shoulder trend has made a big come back this summer, and I have bought a few off the shoulder dresses that I have seriously lived in on the weekend. Here's one I purchased from H&M for $17.99 – yes only $17.99! I couldn't believe the price tag when I saw it. This little beauty is still available online – shop the look below. This will also transition into fall beautifully.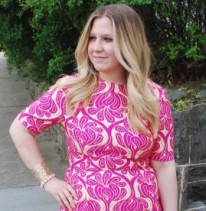 Sian is the woman behind the stylish fashion and beauty blog, Girl, Inbetweenied. She blogs to be a "fashion and beauty inspiration for the average-sized woman" in response to the fashion industry's unrealistic beauty standards of female size. A resident of Washington DC, Sian is a proud Inbetweenie and advocate of universal beauty for all sizes. Follow Sian on Facebook, Twitter, and Instagram!