January 6, 2017 at 4:30 am
New year, new style! For fashion, we always recommend to try something new and make it yours. It can be daunting, but it can also be so much fun. One of the more daring trends is the monochromatic look. How can you make dressing in one color seem multidimensional? Sian shows us how:
Today's post focuses on the monochromatic trend! But first – it has been forever since I have posted. I know, I know, I promised to get back into my normal schedule in September. Life has just been a little crazy, to the point where I thought about shutting the blog down. In October I had to make the decision whether to continue or shut it down. In the end, I decided that I love doing this too much, and I NEED to make time for it.
So I am making a New Year's resolution (which I never do, but made an exception) that not only am I going to get back into this, but I am going to kick it up a notch. I live in an amazing city with great places to shoot pics so I am going to up the variety in shooting locations. I am also planning to post more videos, including hair and makeup tutorials so stayed tuned! I shot a great hair tutorial yesterday that will be up this week.
I love a great tulle skirt and I love monochromatic looks so I paired them up to create this outfit! This isn't totally monochromatic because of the white stripes in the top, but close enough!
So how do you pull off the monochromatic trend? If you can purchase the top and bottom from the same store to make an exact fabric/color match, that's ideal. But, if you want to just use what you have in your closet from different stores, it takes a little a more time to find the right match since the fabrics/colors won't exactly match. Here are a few recommendations for trying this trend:
Use different textures because it draws the eyes away from the different shades (like I did below – the tulle skirt, and the textured suit jacket are different navy blues)
Start with neutrals – it's an easy way to try the trend (whites/creams/grays/black)
Try using lighter tones or darker tones of the same color
Purchasing a suit is also a great way to wear the look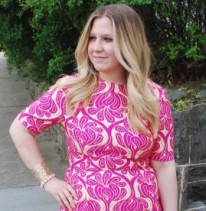 Sian is the woman behind the stylish fashion and beauty blog, Girl, Inbetweenied. She blogs to be a "fashion and beauty inspiration for the average-sized woman" in response to the fashion industry's unrealistic beauty standards of female size. A resident of Washington DC, Sian is a proud Inbetweenie and advocate of universal beauty for all sizes. Follow Sian on Facebook, Twitter, and Instagram!