Oversized dresses are stylish, flowy, and comfortable, but can be a challenge to style! All it takes is one detail to make an oversized piece of clothing exude either fashion-forwardness or sloppiness. Keep in mind these following tips for when you're in love with that one oversized dress but don't know how to rock it. Sian tells us more:
Oversized clothing is on trend again (thankfully cause it's SO comfy!), but it can easily make you look frumpy or sloppy. Here are a few tips to keep in mind when going for oversized clothing so you don't look frumpy:
Stick to one oversized item in your look. For example, if you are wearing an oversized top, go for a more fitted pant/jean. With a fuller skirt or wide legged pants, wear a tighter top. It's all about the proper balance.
Thicker, heavier fabrics can weigh your look down and overwhelm your frame. Stick to lightweight fabrics like cotton and silk that will look more flowy.
If you have a larger mid-section (especially apple shaped and pear shaped beauties), try to avoid dresses that hit below the natural waist – it can make your mid-section look bigger. The ASOS dress I am wearing for this post is perfect because it hits right at the natural waist (about an inch above the belly button).
If the dress is midi length or maxi length, it can end up being overwhelming on your body. Show a little skin on top to balance out the length. For example, this dress has a nice low neckline, and see-through crochet details. If it had long sleeves and/or a higher neckline the dress would be overwhelming on my body.
Don't buy clothing in bigger sizes to get the oversized look – the garment should purposely tailored as an oversized item.
Adding a higher heel helps elongate your body!
ASOS has been nailing it lately with their boho chic inspired fashion. When I saw this dress, I HAD to have it. The bold red embroidered pattern, and crochet details are unique and the fit is so darn comfy and lightweight for summer.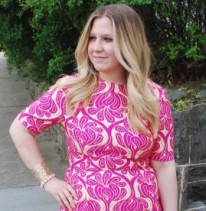 Sian is the woman behind the stylish fashion and beauty blog, Girl, Inbetweenied. She blogs to be a "fashion and beauty inspiration for the average-sized woman" in response to the fashion industry's unrealistic beauty standards of female size. A resident of Washington DC, Sian is a proud Inbetweenie and advocate of universal beauty for all sizes. Follow Sian on Facebook, Twitter, and Instagram!