September 2, 2016 at 4:30 am
Summer is drawing to a close, but many of us are not quite ready to let go of the warm season just yet! The same thing can be said about certain summer styles. Luckily, there are plenty of trends that can transition well into the fall. Sian shows off one example:
Do you ever look through your closet and realize you subconsciously buy the same colors over and over? I am like that with tribal prints and florals in the summer – from dresses, to bathing suits, to pants; I just can't get enough of them.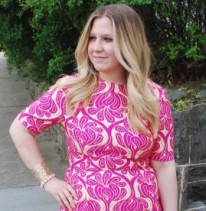 Sian is the woman behind the stylish fashion and beauty blog, Girl, Inbetweenied. She blogs to be a "fashion and beauty inspiration for the average-sized woman" in response to the fashion industry's unrealistic beauty standards of female size. A resident of Washington DC, Sian is a proud Inbetweenie and advocate of universal beauty for all sizes. Follow Sian on Facebook, Twitter, and Instagram!