At Lipstick and Politics, every month is women's history month, but March was officially Women's History Month. It may be over, but I want to close it out by introducing our readers to some female leaders who are often overlooked in the history books or popular culture. I recently finished reading When Everything Changed by columnist Gail Collins; it is an enjoyable, easy read that brings the modern women's movement to life. For women of my generation it is easy to take for granted the sacrifices of those who came before us. While reading the book I was surprised by the number of women leaders whose names were unfamiliar to me.
Women's history, as it's taught in our schools, is very limited. We might know about Elizabeth Cady Stanton and the Seneca Falls convention. We learn about Susan B. Anthony, Sacagewea, Harriet Tubman and Sojourner Truth in our textbooks. Modern feminists such as Betty Friedan and Gloria Steinem are also household names and we can all think of several contemporary women leaders in politics and business. There are, however, a large number of women who are not as widely recognized. These women often played large roles in politics, women's rights or civil rights, but rarely earn mentions in our middle school textbooks today.
Here are five of the many women who, I think, deserve our attention and a little more recognition.
The Politicians
Bella Abzug (1920-1998): A labor attorney by trade, Abzug was determined to be taken seriously. According to Collins, "She had worn her big, colorful trademark hats since she was a young woman, when her mother told her that a hat was a surefire sign that she was not a secretary." She was a contemporary of Friedan and Steinem in the women's movement and served in Congress as a Democrat from New York. While campaigning for Congress in 1970 she reportedly said, "This woman's place is in the house - The House of Representatives." She was married with two daughters - one of whom (Liz) created the Bella Abzug Leadership Institute (BALI) to train high school and college women to take on leadership roles.
Clare Boothe Luce (1903-1987): Born Ann Clare Boothe, she seemed destined for a life on the stage. At the age of ten Luce understudied Mary Pickford on Broadway. However, instead of fame under the footlights she became a writer and eventually served as a Republican Congresswoman who often challenged FDR's policies. She was also one-half of a power couple. Her husband, Henry Luce, was the publisher of Time, Life and Fortune magazines. Clare Boothe Luce was known as a strong anti-communist and was appointed Ambassador to Italy by President Eisenhower. Jacqueline Kennedy - in pre-liberated 1964 - amusingly speculated that Luce might be a lesbian and that similar strong women must hate men (Caroline Kennedy admitted to being embarrassed by the comments and said that, in later years, her mother would never have made those comments).
The Suffragette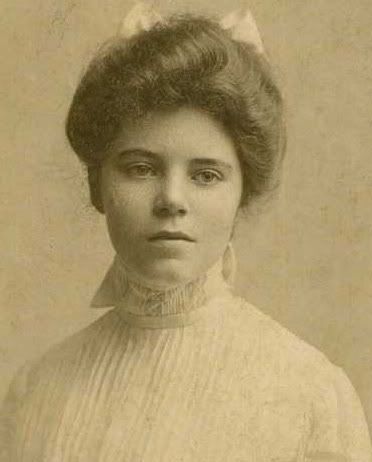 Alice Paul (1885-1977): She was one of the leaders of the successful campaign to get women the vote in 1920, but she lived to see the women's movement of the 1960's and '70s where she marched alongside a younger generation of women. Paul led the charge for a constitutional amendment, which would grant women the vote, when other women leaders resisted that goal. She, and other protesters, were convicted of "obstructing traffic" while picketing outside the White House. In jail, they staged a hunger strike to protest prison conditions and were force fed through a tube. Paul held multiple graduate degrees including a Ph.D, a law degree and advanced law degrees. She was the original author of an Equal Rights Amendment - something that didn't gain national traction until the 1970's when it was narrowly defeated.
The Civil Rights Crusaders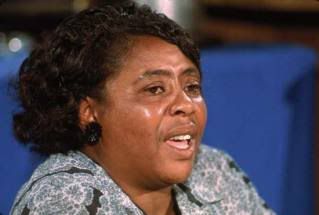 Fannie Lou Hamer (1917-1977): One of the key figures behind Mississippi Freedom summer for the Student Non-Violent Coordinating Committee (SNCC), Hamer was a poor sharecropper who embodied what it means to be a community organizer. According to Collins, black women in Southern, rural communities were much more likely than men to step forward as volunteers. In fact, Hamer was beaten - almost to death - while she was imprisoned on trumped up charges in 1963. She was later disappointed when SNCC embraced "Black Power" and voted to expel its white members. Hamer had no children of her own because she was sterilized, against her will, by a white doctor who was participating a program to reduce the number of poor black people. Even though women were often the unsung heroes of the the civil rights movement, Collins mentions that Hamer didn't necessarily relate to the women's movement. She said, "I'm not hung up on this thing about liberating myself from the black man. I'm not going to try that thing. I got a black husband. Six feet three, two hundred and forty pounds with a fourteen shoe that I don't want to be liberated from."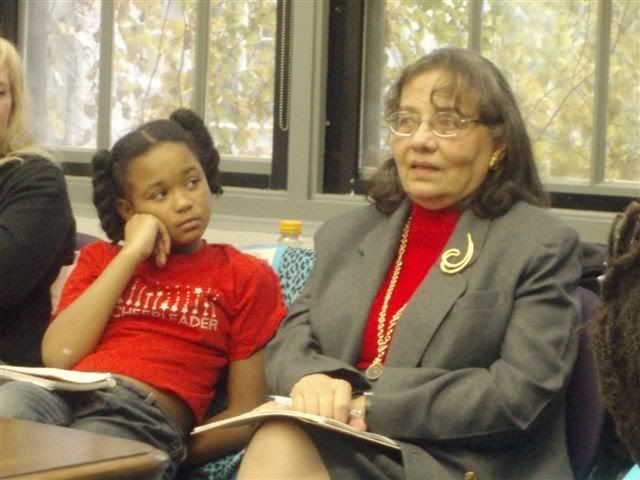 Diane Nash (b. 1938): This Chicago native was beautiful, accomplished and well-educated. She was a contemporary of Representative John Lewis and considered an extremely effective student leader in the Civil Rights movement. She was a champion of non-violent protests and considered an excellent spokeswoman for the cause. Were it not for her gender she may have gained greater fame as a civil rights leader. She often took a backseat to her philandering husband whom she later divorced. A famous quote from Nash was in response to her conviction for "contributing to the delinquency of minors," after teaching non-violent civil disobedience techniques to high school students. She was pregnant and the judge released her early - despite her attempts to serve the whole sentence. Collins mentions that, upon her release, Nash apparently said, "Since my child will be a black child born in Mississippi, whether I am in jail or not he will be born in prison."